Property managers are too easily scared when confronted with prospective clients asking for a discount. A majority of property managers are still unsure and uncomfortable about defending their fees.
"I will admit, when I was a Business Development Manager, in the early days, I would be going through an agreement and saying it as quickly as I could so they wouldn't ask me for a discount."
"Once I knew I had the confidence in the team behind me and I knew we were a good office and we were providing good services that were better than every other agency, I could defend my fees and say, "This is why we are better and this is why you pay X-amount of dollars a year."
"If you are renting properties five or six days quicker than everybody else, you are potentially saving $300-$400 a year just on filling properties quicker, which is cheaper than a one per cent discount over the year," he added.
The main reason PMs reduce their fees is fear of confrontation.
"Agents reduce their fees because they don't know how to defend their fees. It is easier just to say 'okay' to get their signature than to say, 'Well, no, this is what you get if you sign with us and this is why our fees are this price,'" he said.
It is natural and human to be scared of it. A PM commission is not like a bank percentage, which is what most owners think.
"Whether it is eight per cent or nine per cent, it is not a bank percentage. We are talking about three or four dollars a week. Break it down to a daily figure, if you have to."
Kick off 2020 with a
Financial Health Check of your rent roll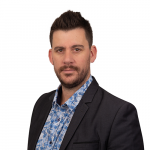 Hamish has over 17 years of experience within the property management industry and has experience throughout New Zealand and Australia as a manager, principal and consultant. He utilised all of this experience to form a property management business that he expanded between 2009 and 2016 into 7 locations around New Zealand.
Subscribe to our monthly newsletter
Be the first to receive the latest news on property management and rent roll listings

REAA Licence 10002029, Excalibre Real Estate Richmond Limited
Excalibre Real Estate Richmond Limited - Licensed Agent (REAA 2008)
257 Queen Street, Richmond, 7020